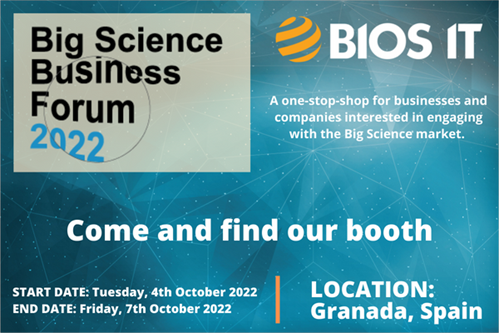 BSBF 2022
Big Science BUsiness Forum is making its long awaited return after the overwhelming success of the first edition in Copenhagen
more than 1,000 participants from more than 500 organisations and 29 countries gathered together to discuss the future prospects of the Big Science Market
This year, we are doubly excited. Not only will have a space at the event and also attend the Gala Dinner, but we will also be making more technology announcements and demo-ing more outstanding products than ever before.
Turnkey IT solutions that scale to meet your needs
BIOS IT has extensive expertise in HPC and has been guiding businesses through implementation for three decades.
BSBF-Only Opportunities
Throughout BSBF week, we'll send you a daily email digest with all the highlights from each day, as well as links to white papers, webinars, videos and more to digest at your leisure, so you can stay up to date with all the latest BSBF and HPC news.
Some of the exceptional products we will be showcasing are currently under NDA – all the more reason to subscribe, to be among the first to witness the unveiling!
You will also have the unique opportunity to enter an BSBF-attendees-only daily draw for tech goodies over the 3 days we're attending.
Start Date: Tuesday, 4 October 2022
End Date: Friday, 7 October 2022
Location: Granada, Spain
Stand details: TBC